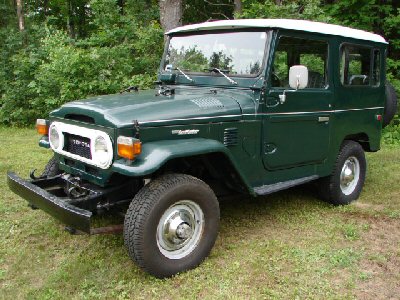 The 1970's Toyota FJ40 Landcruiser defined coolness and commanded respect on and off road. The classic stylings are timeless and the rugged performance of this vehicle is unmatched. With a straight four 2F engine this beast could climb land, water and asphalt. If you go to the jungle there's a 98% chance they will be driving a classic Toyota FJ40 Landcruiser.

I owned a 1978 FJ in high school and I never should've sold it. I used a mechanic nicknamed "Young Mechanic" from Vietnam...Best mechanic ever. He worked at an FJ restoration company during the day and on the weekends he moonlighted as "Young the Mechanic", him and his Vietnamiese buddies would get red faced drunk and work on FJ's all day in the hot Texas sun.

I think he would get so drunk he would start fixing things for free...I would get in my Crusier and suddenly my blinkers worked and gas gauge...Young would go on to tell me that I "cannot pickup guls" with no blinker..."it not safe". I would nod hand him his cash and be off just before Saturday night.